Shower Repair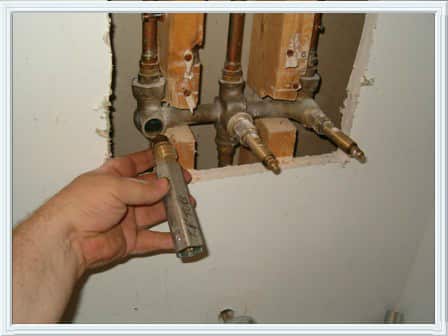 How to Fix the Shower
Having a broken shower can be an annoying problem at home. There are some problems that only seasoned experts like Houston Plumbing can solve. However, there are some damages and concerns that homeowners can fix themselves. This involves handle, faucet and showerhead leaks. Here is a shower repair Houston guide that can be used:
Preparing What You Need
Preparing for a shower fix is simple. Make sure to take out your tool box and open it beside you. Ensure that you have a wrench, pliers and screwdrivers. You might also need a handle puller, cartridges, several gasket options and a spool ofTeflon tape. Make sure you are also wearing rubber gloves, so you'll get a better grip, and clothes you can get wet in.
Before anything else, make sure nobody uses the shower for a day. Everything in the surrounding should be dry, so if you must, wipe and mop everything down. Of course, do not forget to turn the water off for the duration of the repair.
How to Repair the Handle
Usually, most of the shower leaks are because of a broken handle. Luckily, this can easily be fixed by a simple replacement process. Here are some of the things you should do:
Turn the shower on, just to check that the water output is off.

Turn the handle counter clockwise. Turn it as far as it can go. Keep it tight and make sure it doesn't budge with the slightest movement.

Remove the handle by using a screw driver. Find the cap and unscrew it. It should come off quickly.

If it doesn't, it must have a mold build up. Get a hair dryer, heat it up and it should come off fairly quickly.

Take out the cartridge, that large ring on the wall. You can do this using a cartridge puller.

Install a new cartridge and screw it in place. Make sure the position is the same as the one you just took out.

Turn the water back on and do some testing. If all went according to plan, there should already be no leak whatsoever.
Should the internal mechanism of the shower be different, stop with the shower faucet repair Houston and take a step back. For these kinds of situation, you might need the help of experts like Speedway Plumbing Houston Texas. Equipped with years of experience and the capability to handle any plumbing concern, their team of highly skilled individuals will fix any leak and use preventive measures to ensure that your shower will function without any problems whatsoever.
How to Repair the Faucet
Broken faucets requires a different shower faucet repair Houston. But, don't worry, it's fairly easy, and it can even be finished in less than an hour. Here's how to do it:
Again, turn on the shower to make sure there is no water coming out from the shower head.

Take out the shower faucet. Depending on the kind installed in your bathroom, you will need either a wrench or a set of pliers. Do the removal carefully. You don't want to break anything off. That might cause a bigger problem.

Drain the other water from the faucet. During these situation, use a dry cloth just to soak up any moisture. This will significantly speed up the process.

Locate the gasket inside. Take out the old one and get your options. Find the one that fits the spot the most. The idea here is that it should be perfectly be in position. It should not budge or move in any possible.

Once that is in place, assemble the faucet once again. Turn the water back on and do some testing. If there is no leak coming from the faucet, you have been successful in the repair.
If there is still a leak, you might have used the wrong faucet. Bring the old faucet to a plumbing supply shop and get the exact same one.
How to Replace a Showerhead
Out of all of the shower repair Houston guides, this is one of the easiest. Here's how to do it:
Make sure everything is dry. You will be standing on the shower floor, so take extra precaution. Also, again, make sure that the water is off.

Screw off the showerhead. If you can't get a good grip, use a dry towel. This will be most likely counter clockwise. If this doesn't work, you can also use pliers to help.

Take the showerhead and bring it to the hardware store. Tell the person that you're looking for a new model of what you're holding.

Return home and use a dry rag to wipe down the cord. Tip it down. It should be empty of water no matter what.

Take out any Teflon tape and dispose of it properly.

Wrap a new round of Teflon tape on the cord. 3 to 4 rounds should do it. Wrap it in a clockwise manner. Make sure to do this as tight as possible.

Press on the tape. The tape should be embedded in the grooves of the cord.

Connect the brand new showerhead. Mount it carefully. Screw it in place. If it proves to be a problem, grab the dry rag and pliers again to help you with the installation.

Make sure everything is tight. Any looseness will cause another leak.

Turn the water on once again. If the procedure was done correctly, the shower head should not be leaking anymore.
There are many other types of leaks that the homeowner cannot handle. This involves replacing the entire mechanism, replacing the shower pan and fixing the pipes hidden beneath the walls. For these kinds of situations, hire a professional team, like Speedway Plumbing Houston Texas. Their dedicated team can handle and solve any plumbing problem, whether it's in the bathroom, in the entire house or even your sewage system. They are one of the best in the industry.
Take care of any shower leaks by following the tips above. And make sure to check your bathroom components once in a while so you can put preventing measures in place.